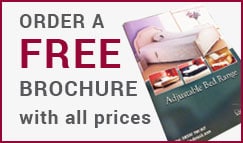 Superior Sprung Mattress
Our Price:
£

348
( £

417.6

inc vat )
Add to Basket
Added to Cart

View basket
Any queries please call an
Adjustable bed expert
on
Please note that this mattress cannot be used in conjunction with the massage system.
No sprung mattress works 100% correctly on an adjustable bed.
Think of a spring inside your mattress standing vertically, when you put pressure on the coil it moves in a downward motion and springs back when released, when you bend a bed/ mattress and then put pressure on the spring the spring moves in the wrong direction (instead of up and down the spring is at an angle and is forced sideways), this can also cause a ridging effect of the materials on top of the springs (bunching) see below, other companies also use springs with a metal wire around the mattress to keep the springs in place (if you feel the side of your own mattress the upper edge will have the wire encircling the whole mattress this keeps the springs in place) we either use foam or cotton encircled around the edge of the mattress just another way Laybrook understand what is needed to make your choice as easy as possible we know adjustable beds inside and out beat that!
This mattress has cotton/natural fibres top and bottom to keep the person extra cool at night, with 1 ½ inch pocket sprung system (any smaller makes the mattress extremely heavy and is un-necessary) this is the ultimate comfort in sprung mattresses specifically made for adjustable beds giving the correct support whether you require a soft, medium or firm feel you will feel supremely comfortable and cool.

This mattress must be top to bottom weekly for the first 2 months then once on a monthly basis.
Each mattress is made individually for you and to YOUR WEIGHT so if you have a dual bed and one person is 10 stone, the other is 18 stone and both want a medium feel they will be different mattresses, unlike some companies we manufacture to your specifacation.