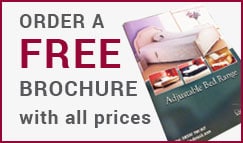 Standard Sprung Mattress
Our Price:
£

248
( £

297.6

inc vat )
Add to Basket
Added to Cart

View basket
Any queries please call an
Adjustable bed expert
on
This mattress is free with any of our domestic adjustable beds.
Please note that this mattress cannot be used in conjunction with the massage system.
Again here at Laybrook we only use the very best quality materials. This coil sprung mattress has springs with no roll together technology to give unrivalled support in a sprung mattress. They are hand finished and have different densitys of foam on top so you can be sure that whether you choose a soft, medium or firm feel to the mattress you will get a superb night sleep. This sprung mattress has foam layered on top encased in a poly cotton cover for a sumptuous comfy feel.
No sprung mattress is designed 100% for an adjustable bed as a bunching or ridge of the upper materials may appear accross the mattress where it bends, the more the mattress is bent the more of this bunching occurs...
Each mattress is made individually for you and to YOUR WEIGHT, so if you have a dual bed and one person is 10 stone, the other is 18 stone and both want a medium feel they will be different mattresses, unlike some companies we manufacture to your specification.
COIL SPRUNG MATTRESS
COOL MATTRESS
SOFT, MEDIUM OR FIRM RATINGS
HAND FINISHED
If purchasing a Laybrook bed this mattress comes free with any domestic electric adjustable bed (excludes care home beds, eg classic care home bed).