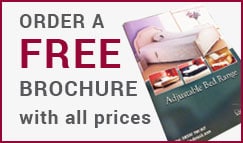 Firm Edge Memory Foam Mattress
Our Price:
£

498
( £

597.6

inc vat )
Add to Basket
Added to Cart

View basket
Any queries please call an
Adjustable bed expert
on
FIRM EDGE SUPPORT.
This mattress will help people who have little balance or feel as if they slip forward whilst sitting on the edge of the mattress.
Incorporating the latest technology, memory foam (or Visco Elastic) is a temperature sensitive material. When we lay on our side, the highest pressure points are on our hips and shoulders. This pressure firstly restricts our blood flow (you may have noticed that you sometimes wake with pins & needles or a numb arm). This pressure also creates heat (as on all mattresses) and because the memory mattress reacts to heat, it softens more in the hip and shoulder areas. This results in a more even weight distribution over the length of the mattress, therefore less pressure, so reducing 'toss and turn' during the night. Reduced movement means more non-REM sleep (the deep sleep our body needs to rejuvenate itself), which is why it is perfect for sleeping on.
FIRM EDGE IS ON ONE SIDE ONLY, LET US KNOW WHICH SIDE OF THE BED YOU EXIT IF YOU ARE STANDING AT THE BOTTOM OF THE BED LOOKING AT THE HEADBOARD, LEFT OR RIGHT HAND SIDE.

"Cool Foam Mattress" this mattress can have castling (groves cut into the foam), which allows the air to be drawn in to flow through the mattress and keep you cool as you turn in bed. It also has open cell technology, again for breathe-ability, which will keep your body at an even temperature throughout the night. The removable washable cover is made from double stretch cotton, which allows maximum ventilation and helps any moisture evaporate quickly.


Each mattress is made individually for you and to YOUR WEIGHT, so if you have a dual bed and one person is 10 stone, the other 18 stone and both want a medium feel, they will be different mattresses. Unlike some companies we manufacture to your specification.
TEMPERATURE SENSITIVE
REDUCES TOSSING AND TURNING BY UPTO 80%
GOOD FOR CIRCULATION
GREAT FOR ARTHRITIC PAIN OR SPORTS INJURIES (VERY SUPPORTIVE)
ANTI ALLERGENIC
SUPER COMFORTABLE COOL FOAM, COOL TO SLEEP ON
REDUCES BACK PAIN
PRESSURE RELIEVING PROPERTIES
MOULDS TO YOUR BODY SHAPE NO SPRINGS TO RUST AWAY
100% HYGIENIC (NO BED BUGS)
REMOVABLE WASHABLE COVER
Dimensions
Single Mattresses
2ft 3 = 670mmx 1985mm x 170mm (26.5 inches x 78 inches x 7 inches)
2ft 6 = 750mm x 1985mm x 170mm (29.5 inches x 78 inches x 7 inches)
3ft = 910mm x 1985mm x 170mm (36 inhces x 78 inches x 7 inches)
Double Mattresses
4ft = 1210mm x 1985mm x 170 (47.5 inches x 78 inches x 7 inches)
4ft 6 = 1355mm x 1985mm x 170 (53 inhces x 78 inches x 7 inches)
5ft = 1510mm x 1985mm x 170 (59.5 inhces x 78 inches x 7 inches)
6ft = 1810mm x 1985mm x 170 (71 inches x 78 inches x 7 inches)
All Mattresses Available in OTHER sizes if Needed (made to measure).
FIRM EDGE IS ON ONE SIDE ONLY, LET US KNOW WHICH SIDE OF THE BED YOU EXIT IF YOU ARE STANDING AT THE BOTTOM OF THE BED LOOKING AT THE HEADBOARD, LEFT OR RIGHT HAND SIDE