Watch product videos
There are videos of this product available. Click here to watch them

7 Day Money Back Guarantee
You can trial any standard bed in the comfort of your home...
Tell me more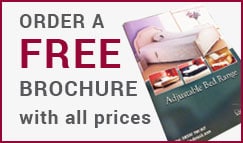 Chatsworth Single Adjustable Bed
Our Price:
£

449
( £

538.8

inc vat )
Includes mattress
Add to Basket
Added to Cart

View basket
Any queries please call an
Adjustable bed expert
on
This bed has style and quality for a price that is unbelievable. The original adjustable bed is still a cut above any flat bed, and with a 1-year warranty, you cannot go wrong.
This bed is shown with a half divan surround. The carved wooden legs raise the surround 7 inches from the floor, providing lots of storage space.
Colour
The colour of this divan bed surround is beige.
Size:
Available in size 3ft for a single (special orders can be made to any height or length)*
Bed height Breakdown
Standard size for the Chatsworth is 22½ inches from the floor to the top of the mattress.
A Vertical Lift is not supported by this bed.
A Heavy Duty Frame is not supported by this bed.
To make sure the height of your bed is correct when ordering, please measure your own first. We are able to alter your bed to a height of your choice, and all for an extra £75!*
Altering the length means altering the mattress, mattress cover, mechanism and surround
Single bed altering the length £ 275.00
Altering the height of bed £ 75.00
Bed Length
The length of the bed is 6ft 8". However, it can be made shorter (additional costs apply).*
If you change the specification of the bed, it will be a special order (non-stock item) and will take up to 1 week longer to make and deliver.
It can also be fully installed by our trained engineers, NOT FLAT PACKED like some companies.
The picture shown is a single bed.
This bed also comes in a double. A double bed has one mattress.
You can NOT have the Vertical Lift, Heavy Duty frame, Leg Lifter or grab ring with this bed.
*Restrictions apply