Watch product videos
There are videos of this product available. Click here to watch them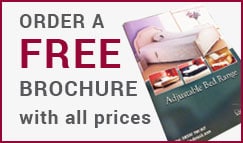 Turning Adjustable Single Bed 18 Stone MR
Our Price:
£

6995
( £

8394

inc vat )
Includes mattress
Add to Basket
Added to Cart

View basket
Any queries please call an
Adjustable bed expert
on
IN HOME DEMONSTRATION SERVICE NOW AVAILABLE, TRY THIS BED IN YOUR HOME FREE AND WITHOUT OBLIGATION.
Laybrook will bring the bed to your lounge and set it up for you to try, we will then leave and let you consider if you would like to go further
(we will not ask for a decision while we are with you) you can then decide if you would like to rent, rent to buy or try another solution.
This model has a manual rotate function.
Laybrook manufacture this bed in OXFORDSHIRE and have redesigned our latest model with the help of occupational theripists and customer feedback. The critical features that were asked for, were :
1. A short seat depth.
A person should be able to get their bottom to the back of the seated area when getting in, this is where the starting height of the bed and tilt function really help as when the bed rotates, you must be in the correct rotational position. A high starting point will not work for a smaller person as they will not be able to sit back fully into the bed.
2. A deeper mattress.
The mattress should not be compromised, a thinner mattress mean less comfort. We have redesigned our bed lower with an extra motor on the leg section to pull the mattress closer to the mechanism on rotation. This allows a deeper mattress but also keeps the bed low (if needed) enabling a much smaller person to get in (comfort without comprimise!).
3. Simple remote controls.
Our new remote control has less buttons, has icons and pictures for you to easily identify the actions of the bed, you can now choose a remote which is backlit to see the remote control in the dark.
THESE FEATURES ARE ON OUR LATEST ELECTRIC ROTATE MODEL (See 25st model)
Buy back option, when you no longer need the bed Laybrook will purchase the bed back for a maximum of £1500.00 depending on condition and age of the bed.
We have some stock of secondhand turning beds, discounted by £1500.00 with new brand mattresses and surrounds. **


No compromise on comfort with Laybrook.
The Turning Bed from Laybrook is the ideal bed for a person who wants to stay at home, as it can put the person from a seated position on the side of the bed and rotates the bed into a flat position for sleeping with the help of a loved one.
The end foot section (ON SOME MODELS) can now be AUTO attached to the leg section to lift the whole of the legs for OEDEMA, LYMPHOEDEMA and LYPODEMA at an inclined position for the best possible drainage, this also means you are the most comfortable you can be in an adjustable bed with your feet supported correctly.
(this feature is Not shown in the video as this is the latest advancment that Laybrook has PATENTED on the electric turn versions).
THE VIDEO ON THIS BED IS OF THE ELECTRIC TURNING BED VERSION AND DOES NOT SHOW OUR PATIENTED FOOTLIFT, NEW REMOTE CONTROL, EXTRA LEG MOTOR, DEEPER MATTRESS OR BACK LIT REMOTE CONTROL. BOOK AN APPOINTMENT WITH A TRAINED EXPERT TO TRY THESE FEATURES. THIS BED DOES NOT HAVE THESE FEATURES.
Luxury adjustable bed with high quality Qflex mattress AS STANDARD.
Sizes: 3ft Single
SAVE THOUSANDS ON CARE HOME COSTS, JUST 8 WEEKS STAYING AT HOME COULD PAY FOR THIS BED COMPARED TO PAYING OVER £1000 PER WEEK AT A CARE HOME.*
THIS BED HAS A MANUAL ROTATION FEATURE.
THERE ARE MANY OPTIONS DEPENDING ON THE NEEDS OF THE USER, PLEASE CONTACT LAYBROOK TO SPEAK TO A FREINDLY EXPERT ON 0800 0194 007 TO ASK ANY QUESTIONS.
By reducing the amount of carers to come to assist a person into bed in the evening and out of bed in the morning, this product could save over £25,000.00 per year.*
RENT before you buy, which will be deducted off the purchase price if you decide to purchase £1800.00 FOR 4 WKS.

FEATURES NOT ON THIS MODEL

The deepest most comfortable mattress with free matttress exchange option (NEW FEATURE) LATEST MODEL ONLY
The simplest remote control with large buttons and pictures to easily identify the bed actions (NEW FEATURE) LATEST MODEL ONLY
Patiented foot raise option (NEW FEATURE). LATEST MODEL ONLY
Backlit remote control option (NEW FEATURE) LATEST MODEL ONLY
FEATURES ON THIS MODEL
Height Adjustable for carers and to easily stand up to exit the bed.
Tilt function
Fully Profiling
Patient Grab Handle
Battery back up (upto 15 full rotation cycles on the battery) in case of power cut.
Manual 90 degree rotation feature.

TILTING FUNCTION (When the bed has turned 90 degrees you now can tilt the bed like a riser recliner chair to help get in & out of the bed) the bed will also stand you up by vertically rising. see picture 4.
The model shown has a beautiful Gazelle Pearl surround, other colour options available.
This bed comes with a full 5-year warranty.

It is also fully installed by our trained engineers, NOT FLAT PACKED like some companies.
Colour
The colour of this divan bed surround is beige.
Sizes
3ft, 5ft 6 and 6ft.
BUYBACK OPTION
Laybrook will buy back your turning bed for a Maximum of £1500.00 when you have finished with its use - This is dependent on model, age and condition.

The picture shown is a single bed.
A dual bed has two mattresses (independent movement)

Bed height
Standard Bed height = 23 inches from the floor to the top of mattress. The turning bed can be made lower - please contact our sales team for more information.
If you change the specification of the bed it will be a special order (non stock item) and will take up to 1 week longer to make and deliver.
If this bed is returned a collection fee of £295 will be charged.
(Finance Available 1yr interest FREE or 3 yrs with Interest, only 4.9% APR). Please see below for example.
FINANCE EXAMPLE OVER 3YRS.
BED COST £5995.00
DEPOSIT £1,800.00
BALANCE £4,195.00 OVER 36 mths at 9.5%apr
Your Total Monthly Payment WILL BE £134.38
Total Cost of Bed with interest = £4852.62
Interest paid over 3yrs £642.32 Monthly interest £17.84 per month (average per month. Finance interest is more at the start of the loan and decreases as the loan decreases.
*example is of county council care charges.
Contact Laybrook for exact interest monthly calculations, the amount of interest above is the overall amount you will pay but calculated monthly and the £17.84 is just an average monthly cost over the 3 yrs.
**Up to 3 years warranty on reconditioned beds, depending on model.
CALL NOW FOR YOUR FREE HOME DEMONSTRATION WITHOUT OBLIGATION.