7 Day Money Back Guarantee
You can trial any standard bed in the comfort of your home...
Tell me more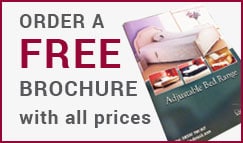 4ft Bari lite Bed (25 Stone)
Our Price:
£

1725
( £

2070

inc vat )
Add to Basket
Added to Cart

View basket
Any queries please call an
Adjustable bed expert
on
Laybrook and its partners have many years of experience of special bed design and have incorporated many innovative features into this wide hospital bed through research and development in the field.
This bed was designed on the basis of this know how and our customers needs and requirements. The newly developed "Wide Beds" are characterised in particular by their wider frame components and sturdy side rails and combine maximum stability with lightweight design.3 Year Guranteee.
The "Extendable Ultra Wide 4ft Bed" is designed for a safe working load up to 30 Stone and max user weight of 25st (158kg)
Easy to use
4ft Wide bed.
4 Section mattress support
height adjusted from 38.5cm (15inches) to 81.5cm (32 inches) without mattress (385mm-815mm)
Electrically adjusted back rest.
Electrically adjusted leg lift with Fowler position knee-break
Electrically adjusted Trendelenburg/reverse function
Simple 'lift & lock' siderails in attractive beech
Head & foot boards in attractive beech
Lifting pole & grab handle
Bed weight without mattress 91kg
Safety
Auto-profiling/function-lock hand control as standard

Innovative anti-lateral tilt system for total stability

4 braked twin-wheel castors

Mains electricity safety connector

Safe working load (30 stone,193kg)

Emergency battery back up.
Max patient weight (25 stone, (158kg)

Actuators/controllers ingress protected to IPX4

Securely fixed spiral wound cables

CE marked to current EU standards

3yr Warranty
Convenient
Modular for easy storage and transport
Easily wheeled on transit/storage frame
Powder-coated steel construction for durability & ease of cleaning
Metal mesh mattress support prolongs life of mattress
Standard bed size 200cm x 120 cm. (20cm longer version of Pro-Bario also available). These are nominal inside dimensions. Mattress dimensions are less than this to allow clearance for moving parts of the bed
Unique serial number on every bed
A choice of mattress and accessories
Matched medium to high risk pressure care mattress specifically for the user weight
Optima 'no-ripple' dynamic air-float mattress system
Siderail height extenders in attractive beech (retains 'lift & lock' feature)
Standard & extra large siderail safety foam bumpers
lightEX reading/examination light
easyEX movement aid
crashEX safety mat
Technical data
Min Height from floor to top of frame (excluding mattress) 10.5 inches (27cm)
Max Height from floor to top of frame (excluding mattress) 27 inches (70cm)