7 Day Money Back Guarantee
You can trial any standard bed in the comfort of your home...
Tell me more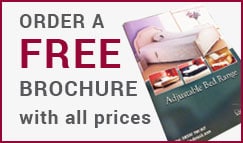 Casa Med Maxi Plus
Our Price:
£

2300
( £

2760

inc vat )
Add to Basket
Added to Cart

View basket
Any queries please call an
Adjustable bed expert
on
These unique bariatric beds with attractive design in natural beech meet all the requirements for our larger clients.
Our many years of experience from research and development in the field of special bed design are incorporated in these two bariatric beds. These beds were designed on the basis of this know-how and our customer's requirements.

The newly developed Casa Med Maxi and Casa Med Maxi Plus are characterised in particular by the reinforced frame components and sturdy side rails, and combine maximum stability with lightweight design.

The Casa Med Maxi Plus is designed for client weights up to 400 kg.

The 4-section profiling mattress support and bed height adjustment are equipped with a powerful individual (Low-noise) motor systems.

Emergency lowering of the head section is facilitated by a 24 V rechargeable battery system and a quick-action bolt mechanism.

These new Bariatric beds are available in different bed widths designed to meet your requirements.
Casa Med Maxi and Casa Med Maxi Plus have been tested to the standards EN 1970:2000 and DIN EN 1970:2000-12, including MDS (Medical Service of German Health Insurers). Our homecare beds therefore meet the strict requirements of the homecare and nursing home sectors. 2 Year Guarantee.
Features
4-section mattress support, 2-motor adjustment,
separable for transport
Bed lift, with one motor for height adjustment
Bed ends and side rails in natural beech
Mattress retainers at head and foot sections
Central braking facility, including double castors 100 mm
Splash-proof hand switch
Control box for disabling different bed functions
Ergonomic adjustment of head and foot sections
Additional positioning of foot section by Ratchet telescopic fittings
Emergency lowering by quick-action bolt mechanism and rechargeable battery system
Transport lock
2 Year Guarantee
Technical data
Total weight 170kg
Heaviest part 46kg
Outer dimensions W/L 102.2x206cm
Max Safe Working load 430kg
Height adjustment 40cm
Adjustment angle of back section 0°-70°
Adjustment angle of foot section 0°-20°