Watch product videos
There are videos of this product available. Click here to watch them

7 Day Money Back Guarantee
You can trial any standard bed in the comfort of your home...
Tell me more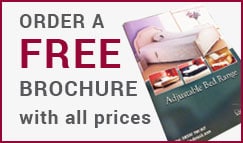 Harvest Ultra Low
Our Price:
£

1345
( £

1614

inc vat )
Add to Basket
Added to Cart

View basket
Any queries please call an
Adjustable bed expert
on
Harvest Ultra Low Profiling Bed.
This Harvest Ultra Low Adjustable Bed is an excellent 4 section profiling bed with an outstanding height range lowering to just 67mm (2.5in) off the floor and rising as high as 640mm (25in). As the bed can be lowered to such a low height, the bed is for use without side rails as the level of risk of falling is greatly reduced, even allowing the user to roll onto the floor or a crash mat with complete security. Providing exceptional levels of safety and reliability, the profiling bed is ideal for use in care homes, residential environments and hospitals and is delivered and installed by a fully qualified professional. The bed features the Trendelenburg Function allowing the user to be moved to the most comfortable and supportive position with the simple-to-use lockable handset. 2 Year Guarantee.
Specification:
One Harvest Ultra Low Profiling Bed
Supplied with a five-year manufacturer warranty
Ideal for care and community environments
Suitable for people that struggle getting into and out of bed
Excellent height adjustable range
4 section profiling bed with Trendelenburg Function
Electronically powered backrest and knee break
Large wooden head and foot boards
Supplied with comprehensive user manual
Profiling bed length: 2130mm (84in)
Profiling bed width: 900mm (35.5in)
Minimum profiling bed height: 67mm (2.5in)
Maximum profiling bed height: 640mm (25in)
Angle of backrest: up to 70°
Angle of thigh rest: up to 30°
Profiling bed weight: 81 kgs (12.75 st)
Maximum user weight: 185 kgs (29 st)