We Are Open For Business.

7 Day Money Back Guarantee
You can trial any standard bed in the comfort of your home...
Tell me more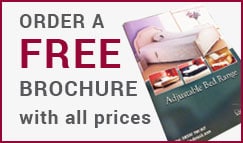 Hospital IQ Bed
Our Price:
£

2995
( £

3594

inc vat )
Add to Basket
Added to Cart

View basket
Any queries please call an
Adjustable bed expert
on
Inovate Hospital Ward Bed
Low height reduces risks associated with patient falls and increases patient independence.
The simultaneous operation of the cardiac chair and tilt functions combined with auto regression improves patient positioning, mobilisation and rehabilitation.
Backrest and mattress angle indicators.
Low height foot end to improve the visibility for the patient.
The removable head and foot ends are also available in a number of colour options for ward management.
Movable catheter hooks can be placed in different locations around the bed for convenience and ease of use.
Easy access manual CPR handle with CPR mechanism. Electric CPR is located on the nurse handset.
Integral bed extension combines ease of use and functionality.
Patient handset innovative design to ensure accessible location of handset for patient. The handset clip fits neatly around the side rail to reduce movement and potential damage, and to ensure the patient has accessibility where required.
Blow moulded panels – durable, smooth, wipeable surface with perforations and channels to reduce liquid pooling.
Blow moulded panels Incorporate a series of perforations to accommodate a wide variety of dynamic mattresses.
Newly designed linen shelf is easier and smoother in operation,can be operated with one hand.
Open and accessible areas with smooth surfaces facilitate ease of cleaning and decontamination. Full accessibility enables steam cleaning.
Extremely light weight bed ensures ease of manoeuvrability with minimal effort.
The built in diagnostics port allows for swift and easy maintenance procedures.
Brake bar/pedal ensures easy access from head or side of the bed.
Triple function castors enable brake, free and track.