Watch product videos
There are videos of this product available. Click here to watch them

7 Day Money Back Guarantee
You can trial any standard bed in the comfort of your home...
Tell me more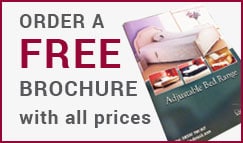 Low Bed Daytona
Our Price:
£

1690
( £

2028

inc vat )
Add to Basket
Added to Cart

View basket
Any queries please call an
Adjustable bed expert
on
The Daytona Ultra Low Bed will brighten up any room with the classic design and attractive wood finish.
This Ultra Low version of our highest end bed, extremly high quality engineering strong, sturdy also has an oak finish. It combines the highest level of functionality, safety and comfort. The sturdy and stable Low bed Daytona meets all the requirements for providing comfort and safety. 2 Year Guarantee
Features
4- section mattress support, 2 motor adjustment, separates for transport
Wooden head end, foot-boards
Handset includes locking facility to maintain position
Removable mattress retainers at the head and foot sections
Ergonomic adjustment of head and foot sections
Emergency lowering by quick action bolt mechanism
Transport lock
Dual action headrest and knee break adjustment on handset, to help reduce shear when profiling
Low profile bed from 23cm to 63cm height adjustment.
Technical data
Min Height from floor to top of frame (excluding mattress) 9 inches (22.5cm)
Max Height from floor to top of frame (excluding mattress) 25 inches (63cm)
Total Weight (3peice) 97.8kg
Heaviest part 25.4kg
Outer dimensions W/L 102cm x 212.5cm
Max safe weight load 175kg
Max safe patient weight 140kg
Height Adjustment 23cm to 63cm
Angle of head adjustment max 70 degrees
Angle of foot adjustment max 20 degrees