We are proud to be showing at Naidex, the flagship event for the disability community, on 22nd - 23rd March at the NEC, Birmingham.

You will find us on stand M10 where you can get specialist advice, a personal demonstration and 2022 prices! Call us to book an appointment.

7 Day Money Back Guarantee
You can trial any standard bed in the comfort of your home...
Tell me more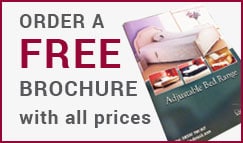 Space Saver
Our Price:
£

745
( £

894

inc vat )
Select Bed Type
Please click your desired bed type first.
Add to Basket
Added to Cart

View basket
Any queries please call an
Adjustable bed expert
on
Polypropylene Head and Foot Care Bed
The Space Saver bed has been specifically designed using a polypropylene head and foot end combined with a 4 sectioned metal plate mattress support to assist with hygiene. The bed can be stored in the upright position maximising on space conservation
Features
No tools required for assembly
Transportation kit for storage and transportation
Quick release motor and actuators
Height adjustable
Electric backrest, legrest and knee-break
Manual lower leg section levelling device
4 brake castors
Made from hygiene friendly materials
2 year warranty
4 section electric profiling
Lockout facility (incorporated on handset)
Technical data
Min Height from floor to top of frame (excluding mattress) 16 inches (40cm)
Max Height from floor to top of frame (excluding mattress) 31.5 inches (80cm)
Total weight....93kg
Weight of heaviest part....24kg
Weight of end panels (each)....18kg
Weight of mattress support (head end)....24kg
Weight of mattress support (foot end)....19kg
Maximum working load....200kg
Maximum patient weight....165kg
Height adjustment....40-80cm
Total height with raising mechanism....174cm
Overall size....Width 103 x Length 212cm
Mattress support ....Width 89cm x Length 199cm
Mattress dimensions ....Width 90 x Length 200 x Depth 10cm or12cm
Adjusting angle - back section....0°-70°
Adjusting angle - thigh section....0°-47°
Adjusting angle - lower leg section....0°-20°
End panels: Textured grey polypropylene
Bed Frame: Powder coated steel