7 Day Money Back Guarantee
You can trial any standard bed in the comfort of your home...
Tell me more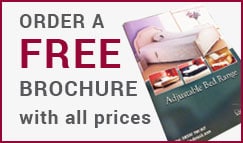 Tern Care Plus
Our Price:
£

2895
( £

3474

inc vat )
Add to Basket
Added to Cart

View basket
Any queries please call an
Adjustable bed expert
on
The Tern Care Plus in natural beech and with unique wood frame panelling stands out thanks to its friendly and attractive design.
This exceptional bed meets all requirements for either the homecare of nursing home sectors. Patient needs can bed met through the different bed sizes available and adjustability of the mattress support.

The adjustable 4 – section mattress support and the height adjustable bed lift are controlled by means of a handset to provide optimum comfort without placing any strain on the body. Easy to fit, sturdy side rails and a drive system in accordance with the relevant standards offer top class safety feature, side rail end caps will be fitted as standard on the wooden side rails.

The Comfort Plus stands on four square legs which guarantee maximum bed stability. The castors integrated in the legs can be extended as required at the push of a button so that the bed can be moved to the desired position. 2 Year Guarantee.
Features
4- section mattress support, 3 motor adjustment, separates for transport
Bed lift, with one motor for height adjustment, including castors
Wooden head end, foot-boards and either full length or medium lenght side rails
Electrically operated

Electrical central castor braking.

Ergonomic adjustment of head and foot sections
Control box with disabling functions and push button to release the castors
Wheel covers (Square wooden leg covers)
Additional positioning of foot section by ratchet telescopic fittings
Emergency lowering by quick action bolt mechanism
Transport lock
Technical data
Total Weight (4peice) 151kg
Heaviest part 40kg
Outer dimensions W/L 106.3cm x 206.3cm
Max safe weight load 200kg
Max safe patient weight 165kg
Height Adjustment 43cm to 79cm
Angle of head adjustment max 70 degrees
Angle of foot adjustment max 20 degrees