7 Day Money Back Guarantee
You can trial any standard bed in the comfort of your home...
Tell me more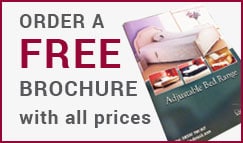 Trendelenburg Care Bed
Our Price:
£

1125
( £

1350

inc vat )
Add to Basket
Added to Cart

View basket
Any queries please call an
Adjustable bed expert
on
The Trendelenburg Bed does everything a standard hospital does but with the following extra feature, it allows the whole bed to tilt at either the head or foot end as well as just the leg section or the head section from the middle (as shown in picture above). The structure of the bed ensures cleaning is easy and cross-contamination is kept to an absolute minimum. It has an extremely quick and simple to dismantle/reinstall frame with no tools required. 2 Year Guarantee.
Features
Easy to Clean
Easy to Install and re-install
Fixed Frame - very robust and stable
No tools required for assembly
Transport bracket aids storage and transportation
Quick release Dewert handset with tilt as standard
Dewert lockable handset with head tilt as standard
Detachable end actuator cable to control box connector
Height adjustable
Electric backrest, legrest and knee-break
Dual action headrest and knee-break adjustment on handset, to help reduce shear when profiling
Manual lower leg section levelling device
100mm diameter, 4 brake castors.
4-section mattress support, 2 motor adjustments, separate for transport
Technical data
Min Height from floor to top of frame (excluding mattress) 16 inches (40cm)
Max Height from floor to top of frame (excluding mattress) 47 inches (119cm)
Total weight....87.6kg
Heaviest part....21.2kg
Outer dimensions....102cm (width) x 213cm (length) Max Safe
Working Load....200kg Max Patient Weight....180kg (28st)
Height Adjustment....40cm to 80cm
Positive and negative tilt
Battery back up.