We Are Open For Business.

Watch product videos
There are videos of this product available. Click here to watch them

7 Day Money Back Guarantee
You can trial any standard bed in the comfort of your home...
Tell me more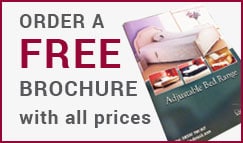 Pro Care Electric Turning Bed
Our Price:
£

7795
( £

9354

inc vat )
Add to Basket
Added to Cart

View basket
Any queries please call an
Adjustable bed expert
on
The New Fully Electric Hospital Turning bed gives the patient independence, and makes a real difference between requiring assistance and being manhandled (hauled) up and down the bed. At the touch of a button, it seamlessly rotates the patient from level to seated position, allowing them that extra comfort and control. With a contemporary wooden covering, the structure has been standardised for hoist utilisation. The functionality is still available regardless of the adjustable height, making the process more straight forward.
And as if this wasn't enough, this bed also has independent brake castors, allowing for complete mobility and positioning!
Maximum Weight: 19 Stone (approx. 125kg)
Features
Seamlessly rotates the patient from level to seated position - all at the touch of a button!
Adjustable tilt and raise from both ends.
Independent brake castors, allowing for complete mobility and positioning
Standardised for hoist utilisation
Contemporary wooden covering
Manufactured in accordance with MPG