Watch product videos
There are videos of this product available. Click here to watch them

2 Year Guarantee
Includes motors, mechanisms and base.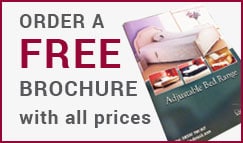 Jefferson (upto 40st) Hi-Low Bed Chair and Leg lifter
Our Price:
£

5455
( £

6546

inc vat )
Seat Height Alterations (Bespoke)
Width Alterations (Bespoke)
Add to Basket
Added to Cart

View basket
Any queries please call an
Adjustable bed expert
on
SAVE THOUSANDS BY CHOOSING THE CORRECT PRODUCT.
This is a clinical version of the Lincoln bedchair, the Jefferson has fully wipable washable material so that it can be reused in clinical enviorments or reissued to other clients in the domestic enviorment from stores after a full deep clean and because of the fillers (which can change the seat height or seat depth), the chiarbed can be reissued to clients of 5ft to 5ft7 in height on the standard size and 5ft 8 - 6ft on the highter chairbed (bespoke versions also available).
The costs of people sleeping in a riser recliner.
People sleeping in a riser recliner will eventually have to be hoisted in and out of bed due to carers health and safety issues of bending to assist patients, few want the indignity of being hoisted in and out of bed! The Lincoln Chairbed can save on the cost of carers coming in, in the evening and the morning to assist the person into and help the person out of bed (saving over £25,000 in yearly care costs)*, it can save the cost of a new adjustable bed, a hoist or the cost of going to a care home (upto £60,000 per yr).
Long Term Solution
The Jefferson Bedchair is designed to help people who sleep in a riser recliner chair, it is so versatile so you can tilt the chair changing the rake (angle of seated choice). and / or extend the footrest independently at any time, creating tilt in space with the footrest at any angle. When raising the footplate on a riser recliner your feet overhang, this is not a good sleeping position as it can cause pressure sores on the ankles, inhibit circulation causing water retention and can also cause drop foot. The Jefferson Chairbed is designed to support your feet as they are in a bed, the motorised foot extension makes the chair 4 inches longer.
The mattress on the Jefferson is upto 5 inches thick with another 3 inches of supporting foam under the hip area for comfort and a great night sleep and can be changed to have a low, medium, high and very high risk for people who may be prone to get or already have pressure sores.
The Jefferson Bedchair has upto 8 motors enabling thousands of possible comfort positions and it can lay virtually flat like a bed, these motors also enable the bed to be height adjustable for carers, this is to prevent the carers getting back problems, all of this is giving freedom to the user to stay independent in their own home long term.
Keep independent safe and in your own home for the rest of your life. Welcome to life with the Jefferson Chairbed.

This Bedchair is brand new to the market, and fills the gap for people needing help to lift their legs up onto the bed without the need for a carer. It can be a full size single bed (3ft with the arms down), a small single of 2ft 6 or smaller as below.
New Dynamic Air Mattress Available for Pressure Care.
Laybrook are the only company in the UK to offer the Lincoln Bed Chair.we have developed a dynamic microcell air mattress for this type of product if you care needs change.. The dynamic air mattress works on the main mattress and on the removable foot section, futureproofing your care AT HOME.

.
BOOK A FREE NO OBLIGATION HOME DEMONSTRATION TO TEST DRIVE - 0808 252 8679
BUY BACK AVAILABLE ON THIS BED CHAIR - This is dependant on model, age and condition.


RENTAL OPTION
Rent this chair for 1 month or until your new chair is manufactured. If you decide to purchase a chair you can keep it until you chair is made. Rental if the Lincoln Chair Bed is not purchased is £75.00 per week after initial 4 weeks.
Standard Qflex mattress.
NEW (for pressure care)
4 Way Stretch Breathable Material Available For Pressure Care, Waterproofing and Easy Cleaning (Available through the middle of the chair including footplate & arms with standard material on the outside of the chair).
Memory Foam Mattress Available
Gel Mattress Available
Dynamic Air Mattress Available.

OPTION OF FOOT EXTENSION SO YOUR FEET ARE SUPPORTED ON THE FOOTPLATE, RATHER THEN YOUR ANKLE SUPPORTED WITH YOUR FEET HANGING OVER THE END.
It can be used either upstairs or downstairs for people who can not get upstairs and has a weight capacity of up to 18. 25, 40 or 50 stone (price available on request).
Features
Height Adjustable (for carers)
upto 8 Motors
Fully Enclosed Foot Extension
Independent Tilt and Rise Feature for Easier Exit and Entry to and from the Bed
Indepedent Tilt to change the angle of the rake of the chair (tilt back whilst sitting normally in the chair).
Trendellenberg and Anti Trendellenberg Positions
Access for Stand Aids
Available with Gel for High Risk Care.
Dimensions
Seat Widths
20 inches (when arms pushed down the overall width is 28 inches)
22 inches (when arms pushed down the overall width is 30 inches)
24 inches (when arms pushed down the overall width is 32 inches)
28 inches (when arms pushed down the overall width is 36 inches) (other sizes available)
26 inch width in the size we have in stock and available, other sizes available but will take 4-6 weeks and costs £695.00 for the chair and mattress alterations..

Seat Depth
Variable
Seat Height
Variable
6-8 Motor Rise, Tilt, & Recline
Near Infinite Movements
Side Pockets
Head Pillow Fittings
Up to 50 stone
2 Year Full Warranty
Special Order
*saving over £25,000 in yearly care costs - Savings are based on typical County Council care costs
If the Bed Chair is returned, there is a £295.00 collection fee.