Watch product videos
There are videos of this product available. Click here to watch them

2 Year Guarantee
Includes motors, mechanisms and base.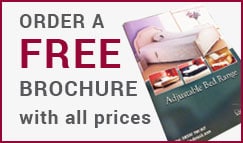 St Helier Chair Bed
Our Price:
£

2595
( £

3114

inc vat )
Add to Basket
Added to Cart

View basket
Any queries please call an
Adjustable bed expert
on
This chair bed is brand new to the market, and fills the gap for people needing help to lift their legs up onto the bed without the need for a carer. It can be a full size single bed (3ft with the arms down) down to a small single of 2ft 6. NOT AVAILAIBLE WITH HIGH LOW FEATURE.
There is no footextension with this product now.

NEW (for pressure care)
4 Way Stretch Breathable Material Available For Pressure Care, Waterproofing and Eazy Cleaning (Available through the middle of the chair including footplate & arms with standard material on the outside of the chair).
It can be used either upstairs or downstairs for people who can not get upstairs and has a standard weight capacity of 18 stone but can be upgraded to 25 or 35 stone.
Dimensions
Seat Widths

22 inches (when arms pushed down the overall width is 30 inches)
24 inches (when arms pushed down the overall width is 32 inches)
28 inches (when arms pushed down the overall width is 36 inches) (other sizes available)
Colour
Fluer Nutmeg

Seat Depth
20 inches (other sizes available)
Seat Height
18 or 20 inches (other sizes available)
DUAL MOTOR Rise & Recliner
Infinite Movements
Side Pockets
Head Pillow
Up to 35 stone
2 Year Full Warranty
Special Order