Watch product videos
There are videos of this product available. Click here to watch them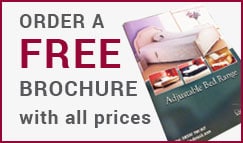 Single Electric Turning Bed
From:
£

4995
( £

5994

inc vat )
Add to Basket
Added to Cart

View basket
Any queries please call an
Adjustable bed expert
on
NEW IN HOME DEMONSTRATION SERVICE ON THIS BED, TRY IN YOUR HOME FREE.
PHONE FOR DETAILS
SAVE THOUSANDS ON CARE COSTS!
Two Models. GUARANTEED BUY BACK ON ELECTRIC TURNING BED!
Non Electric Turning (Carer assisted, carer must manually turn bed) 3ft £4995
Electric Turning (No Carer Needed as per video) 3ft £7445 : RENTAL ON THIS BED : £450 per wk (Min 4 week rental) £90 per wk there after (electric turning bed).
28 Stone weight limit turning bed with-out tilt function. PHOTO SHOWN IS WITH TILT FUNCTION ACTUAL BED HAS NOT GOT TILT FUNCTION. Rental £550 per wk (Min 4 week rental) £95 per wk there after (electric turning bed).
First 4 weeks rental will be taken off purchase price if purchased after 4 weeks.
xxxxxxxxxxx WE MAY HAVE A REFURBISHED TURNING BED FOR SALE/RENT, PRICE £5995.00. PLEASE CALL FOR MORE INFORMATION.xxxxxxxxxx

(Finance Available 1yr interest FREE or 3 yrs with Interest).
Luxury adjustable bed with high quality Reflex mattress.
SAVE THOUSANDS ON CARE HOME COSTS., JUST 8 WEEKS INDEPENDANCE STAYING AT HOME WOULD PAY FOR THIS BED COMPARED TO PAYING £1000 PER WEEK AT A CARE HOME.
The Turning Bed from Laybrook is the ideal bed for a person who wants independence, as it puts the person from a seated position on the side of the bed and turns the bed into a flat position for sleeping. One push of the button will do a full rotation from seated to sleeping position without the need for carers, it helps getting legs onto the bed with the minimum of fuss and gives complete independence.
Features
90 degree rotation feature.
Tilt (like riser recliner chair)
Height Adjustable
Grab Rails
Fully Profiling
Battery Back Up
Patient Grab Handle
Lockable Castors

NEW TILTING FUNCTION (When the bed has turned 90 degrees you now can tilt the bed like a riser recliner chair to help get in & out of the bed). see picture 4.

The model shown has a beautiful Belgium damask surround and has castors so it can be easily moved.
This bed comes with a full 5-year warranty.

It is also fully installed by our trained engineers, NOT FLAT PACKED like some companies.
Colour
The colour of this divan bed surround is beige.
Sizes
3ft

The picture shown is a single bed.
A double bed has one mattress.

Bed height
Standard Bed height = 23 inches from the floor to the top of mattress. The turning bed can be made lower - please contact our sales team for more information.
If you change the specification of the bed it will be a special order (non stock item) and will take upto 1 week longer to make and deliver.
If this bed is returned a collection fee of £295 will be charged